SENSIBLE PRICING
For the convenience of our esteemed guests, we have already mentioned the price list for the accommodation in service apartments Chennai. However special discounts are also available for those who wish to stay for long with the easiest way of bookings and immediate confirmation.
TRAINED SUPPORT TEAM
Our objective is entirely clear for our customers when it comes to hospitality as our house rent team in Chennai is always open and available to resolve any query of our customer. Kindly contact us on 91 9015080080, and we ensure you to give the best
rental apartments in Chennai
.
For Weekend Packages & Special Long-Stay Offers on Rental Serviced Apartments in Chennai, please CALL us at +91 9015080080
Serviced Apartments in Chennai – Available @ Olive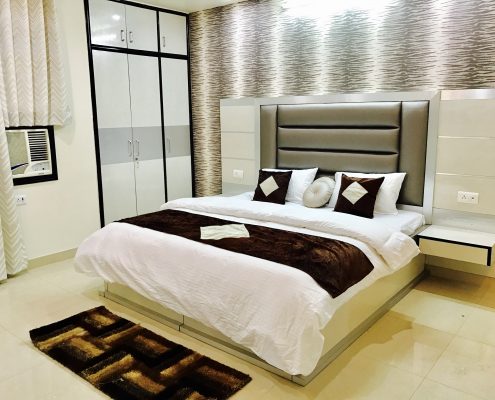 Premier Deluxe Rooms
In our holiday homes in Chennai, you will find it interesting to know that our Premier Deluxe Rooms have an area of 230 sq.ft. The premier deluxe room has an attached bathroom and one can relax on the balcony and can cook food in the kitchen. In Olive's house rent in Chennai, we provide King/Queen size bed with flat screen TV having Tata SKY HD connection and Wifi. Our rental homes in Chennai are well designed and are fully furnished. Single executives and couples can enjoy more space in their rooms cook food of their choice in the well equipped kitchen. Olive apartments are kind of houses to rent for weekend celebrations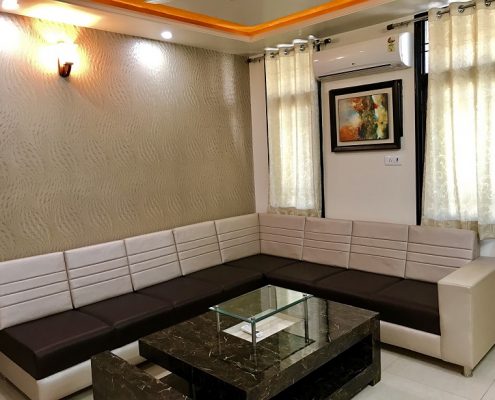 Classic Studio Apartments
Rental vacation homes in Chennai are available for guests who want a room with an area of 400 sq.ft. The classic studio apartment is designed for both couples, single guests as well as families as they could get all the comforts. They can enjoy staying here as apartments offer fully equipped kitchen with necessities like microwave, hot plate, refrigerator, toaster and basic crockery.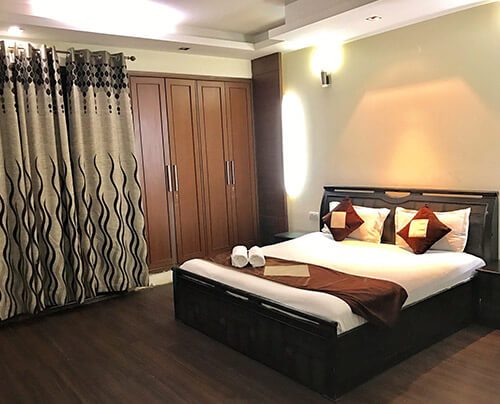 Superior One Bedroom Apartments
In our holiday lettings, one bedroom apartments can be another good option for holiday homes in Chennai where people can enjoy the space of apartment which is spread across 500 sq.ft and is in demand among people who have kids. Our apartment holidays are full of fun and enjoyment.
---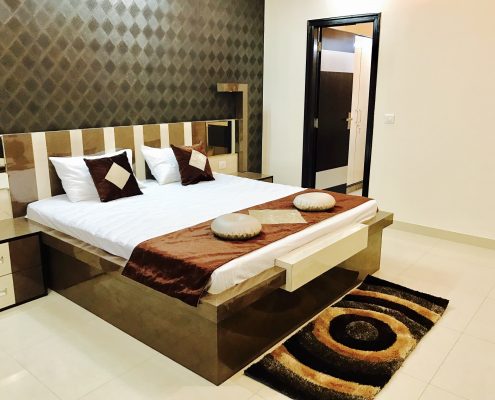 Superior Two Bedroom Apartments
Olive Chennai rental vacation homes have two bedroom apartments with an area of 950 sq.ft, designed for small families and travellers with sleeping comfort on King/Queen bed size and two bathrooms, a living room with attractive dining area and fully equipped kitchen. Olive apartments are the first choice of
holiday apartments
among visitors who consider Olive as holiday homes and weekend apartments.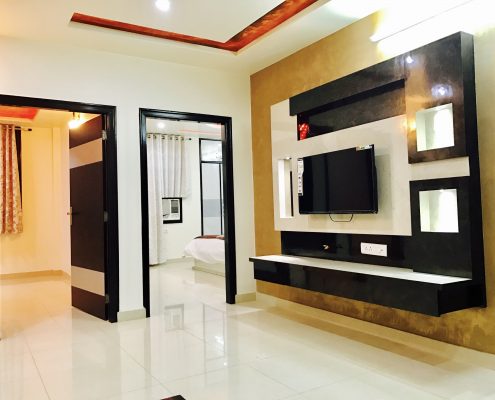 Superior Three Bedroom Apartments
Three bedroom apartments for holiday home lettings is also considered much preferable among friends, families and corporate groups who like to stay in an area having a minimum area of 2200 sq.ft. These holiday apartments also include King/Queen/twin bedding with three bathrooms, a living room, equipped kitchen and dining area.
About Us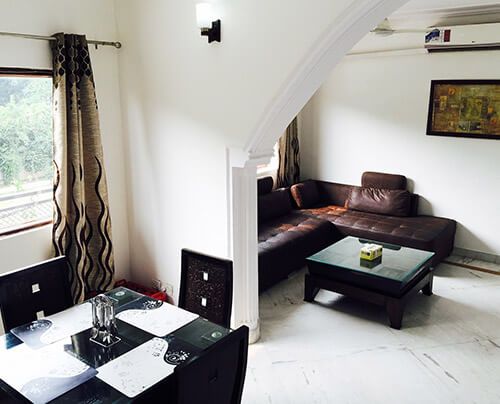 Olive serviced apartments are kind of holiday lettings rooms which ideally provide best services, comfort and affordability. We aim to give 100 percent efficient services to our guest so that we can delight them and achieve their satisfaction regarding the offered services. We have a broad range of room collections with the option of both sharing and non-sharing occupancy. In our apartments, we have already given an opportunity to our guests to cook themselves within the fully equipped kitchen.
Staying at Olive apartments is kind of best experience which gives our customers a homely environment so that they can enjoy our services by professionally trained staff, no matter whether you come for a family vacation or corporate meeting.
Getable in all sizes

Olive rental vacation homes have included BnB plan and offer one bedroom, two bedrooms, and three bedrooms apartments which can be booked by paying the most reasonable rent.

Separate Kitchens and Living Rooms

Whenever a guest arrives in our rental homes in Chennai they don't need to worry for cooking appliances to cook food. Our serviced apartments (1,2 or 3 bedroom apartments) have an option of single kitchens with cooking facilities that includes, stovetop, other kitchen equipment and basic crockery.

Cleaning & Linen Changes included

We made it very clear to our guests to know the fact that your rentals include facilities like housekeeping services, towels and bedsheet replacement with free wifi connectivity, Tata Sky HD, gas and other maintenance work on apartments.

A team of experts in hospitality

Our job is to fulfil our customer's need and desires so that they could have their best time in our Olive serviced apartments. Holiday home lettings apartments ensure to give 24*7 assistance to our guests in order to avoid any trouble while staying in olive apartments which are also known as weekend apartments as people come here on the weekend to have fun.
I am more than happy to stay at Olive service apartments in Chennai. As apartment was full of comforts and it was an easier option for me to cook home food as I am sure i cannot get such facilities in other hotels.

Olive Chennai home apartments are the budget friendly apartments for all class of people as anyone could easily afford to stay for a change. I am happy and thankful to Olive service apartment for taking care of everything.

We were staying in the most decent apartment as my kids loved the place and I feel like coming again and again. I recommend my friends and family to visit Olive Apartments Chennai.

The best part of Olive service apartments in Chennai is the space for parking. We can take our car for holidays and don't need to take much stress for parking our car and worrying about it's security. In this case, we have got rid of hiring taxis and other local transport to commute.

To stay connected Olive serviced apartments has given free wifi facility to us so that we could do browsing and other internet stuff without paying for it. This service is helpful for everybody whether it would be college students or for working people.

Olive Chennai apartment is close to everything from bar to restaurant and shopping malls to hospitals which is the most amazing part of our stay in Chennai.
Highly Rated On Trip Advisor
It is must to get appreciation from a highly trusted portal from travelers like Tripadvisor and other travel booking websites. It keeps us to grow and motivates us to perform better. As we get continuous positive feedbacks from various sources like Facebook, Twitter, etc.
100% Cash Back Guarantee
Money return is the scope which we have left for our guests as if somehow they wouldn't like our services so they can retrieve their money.
Lowest Price Guarantee
Offering best quality services to our customers at a most decent price is our USP.
No Hidden Charges
All rentals of our serviced apartments are tax included and a lot of time we have analysed that customers are being charged extra by various hotels and lodges.
ABOUT THE CITY of CHENNAI
Chennai is located on the Coromandel Coast of the Bay of Bengal. Chennai is known for its cultural, economic and educational centres in South India. It is a matter of fact to know that Chennai is the fourth-largest city and the most populous urban city in India. Talking about more on Chennai than the city is considered among the most visited Indian cities by foreign tourists. As per the reports, Chenna was ranked 43rd most visited city in the world for the year 2015.
However, the best part is that as per Quality of Living Survey, Chennai is rated as the safest city in India. However, it is termed as "India's health capital". Chennai is also known as "India's health capital" as people from around the world visit Chennai for health treatment.
Best places to Visit
Kapaleeshwarar Temple
Marina Beach
San Thome Church
Fort St. George, India
Vadapalani Andavar Temple
Marundeeswarar Temple
Shirdi Sai Baba Temple, Mylapore
Guindy National Park
Valluvar Kottam
Kishkinta
Queens Land
OLIVE SERVICE APARTMENTS IN CHENNAI
Chennai is one of the old cities having a history of more than 400-year and is considered as the 31st largest metropolitan area in the world. The original name of Chennai is "Madrasapattinam" which was located in the province of Tondaimandalam, an area which falls between Pennar river of Nellore and the Pennar river of Cuddalore. Earlier Chennai was a group of many villages, surrounded by paddy fields, which were outlined by palm trees. Chennai was ruled by dynasties of South India such as the Pallavas, the Cholas, the Pandyas and the Vijaynagar kingdom. As per our historians, it was at the beginning of 16th century when Chennai started taking shape for the future
OLIVE SERVICED APARTMENTS IN CHENNAI
Olive serviced apartments in Chennai are known and considered top on the list when it comes to hospitality and for comfortable stays. We have set up our apartments in mainly four big cities like New Delhi, Chennai, Gurgaon, Noida and Hyderabad. We are famous among travellers and corporate groups who would like to stay in our luxurious apartments. We also fulfil the needs of our guests who would love to live in the Deluxe rooms, studio apartments, 2 bhk apartment for rent and much more. We also feel the pride to share a piece of information that Olive service apartments in Chennai are one of the fastest growing chains of the self-catering serviced apartments in the country.
We provide beautifully designed rooms, which are spacious enough to accommodate a family. In our designed rooms, we have king/queen size bed, attached bathrooms, studio apartments, Tata Sky TV, Studio Apartments which provide an individual kitchen with One Bedroom, Two Bedroom and Three Bedroom apartments. We also ensure complete privacy among our guests. All rooms of olive apartments are air conditioned with noiseless Daikin split air conditioner. To fulfil the need of water Olive Chennai apartments gives continuous hot and cold water supply 24*7 to our guests.
Free wifi internet connection to our guests is a part of our USP as now these days everybody is on the web and we know the art to fulfil their desires. There is always a team of workers in olive apartments who have assigned a duty to maintain the cleanliness inside the apartments. Power backup setup has always been considered top on the priority list. Olive Chennai apartments have enough parking space which encourages visitors to bring their vehicles as nobody would be worried about parking crunch.
We offer a broad range of designed rooms which are fully furnished service apartments. Olive service Chennai apartments have all variety of rooms as per individual's requirement as it also offers rooms for both short and long stays. Undoubtedly our rental apartments in Chennai are much pocket-friendly than other hotels and lodges.
Kitchen plays an important aspect in everybody's life and especially when someone is out of home and miss home cooked food. Olive serviced apartments have fully loaded kitchen facility like Stovetop, Refrigerator, Microwave, etc. We have also included a bedroom with attached bathrooms and living rooms with sitting couch and dining.
1What are the various accommodation options available for guests?
To fulfill the needs of our customers Olive serviced apartments have a variety of options which include Deluxe Rooms, Studio Apartments (with fully equipped kitchen like all other apartments), One bedroom apartments (with living room as well as kitchen). Two Bedroom & Three Bedroom apartment, All the options includes a king/queen size bed, Flat Screen TV with TATA sky, Free Wifi Connection among other necessary facilities.
2I wish to book an apartment for over a month, can i expect some discount?
Yes definitely, We offer special discounts to all our guests incase of long stays, a longer stay is given offered a better discount. Apart from the discount part we can assure you that the pricing you will get will be the best possible / lowest. And we take pride to claim this.
3Are your apartments ideal for a person visiting Chennai for medical treatment?
Yes, our fully furnished serviced apartments offers comfortable & luxury stay for all the type of guests. We understand that a medical tourist / traveler is concerned for both Budget as well as Comfort when it comes to accommodation, hence we at Olive Serviced Apartment ensure to fulfill both the concerns of our guests by providing various accommodation options which fits in their budget as well as all the required facilities for a comfortable stay.